---
Computerchemie
Computer-Anwendungen in der Theoretischen Chemie.
---
---
Computer und rechnerische Anwendungen begleiten uns im alltäglichen Leben mittlerweile auf Schritt und Tritt - so natürlich auch in der Chemie.
Der Begriff Computerchemie ist ein enger gefasster Ausdruck, der sich vom englischen computational chemistry herleitet und sich - im Gegensatz zur Chemoinformatik - mit der computer- bzw. softwaretechnischen Umsetzung von Fragestellungen aus der Theoretischen Chemie und der Quantenchemie befasst.
Das nachfolgende Verzeichnis listet online verfügbare Informationsquellen zur Computerchemie auf.
Weitere Informationen zum Thema in englischer Sprache finden Sie unter computational chemistry.
---
---
Inhalt, Gliederung
---
---
---
---
Aktuelle Berichte
---
---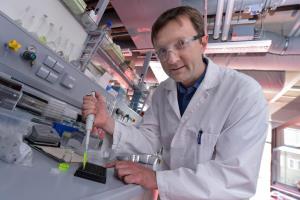 Tic-Tac-Toe auf dem Zuckercomputer
Spielerische Übung für chemischen Rechner: Chemiker der Universität Jena spielen mit ihrem Zuckercomputer Tic-Tac-Toe.

Abbildung: Dem Jenaer Chemiker Prof. Dr. Alexander Schiller - hier im Labor - und seinem Team ist es gelungen, mit ihrem Zuckercomputer Tic-Tac-Toe zu spielen … praktische Grundlagenforschung, wie der Artikel zeigt …
[Foto, Bildquelle: Jürgen Scheere/FSU]
---
---
---
---
---
Vorlesungsskripten und Vorlesungsmaterialien
---
Computerchemie
Vorlesungsskript: Theoretische Chemie, Quantenchemie. Universität Kiel - Format: PDF
Computerchemie
Vorlesungsskript: Einführung in die Computerchemie. Universität Kiel - Format: PDF
Computerchemie
Methoden. Universität Heidelberg - Format: PDF
Computerchemie
Praktikumsskript Computerchemie/Theoretische Chemie: Theoretische Grundlagen. Universität Kiel - Format: PDF
Computer-Chemie
Eine Einführung. Universität Heidelberg - Format: PDF
Einführung
Einführung in die computerchemische Betrachtung basischemischer Sachverhalte mittels frei erhältlicher Software. Dissertation, (2011). Universität München - Format: PDF
Herausforderungen der Chemie an das Höchstleistungsrechnen
Vortragsskript und Vortragsfolien. TU München
Quantenchemie
Vorlesungsmaterialien: Computational Chemistry. Universität Kiel - Format: PDF
---
---
Verbindungsklassen
---
Phosphete und Phosphetidine
Synthese und computerchemische Untersuchung neuer Phosphete und Phosphetidine sowie exemplarischer Übergangsmetallkomplexe beider Substanzklassen. Dissertation, 2005. Universität Düsseldorf
---
---
Daten und Datenbanken
---
CCCBDB
Computational Chemistry Comparison and Benchmark Database. NIST - [engl.]
---
---
Software und Programme
---
ABINIT
... is a package whose main program allows one to find the total energy, charge density and electronic structure of systems made of electrons and nuclei (molecules and periodic solids) within Density Functional Theory (DFT), using pseudopotentials and a planewave basis - [engl.]
AMBER
Assisted Model Building with Energy Refinement - [engl.]
CCL Software List
A gateway to the archives of software (and tips on software use/installation) that accummulated on CCL over the years, initially as an FTP site - [engl.]
EPSRC National Service for Computational Chemistry Software
NSCCS provides access to software, specialist consultation, computing resources and software training to support UK academics working across all fields of chemistry - [engl.]
Extensible Computational Chemistry Environment, ECCE
... provides a sophisticated graphical user interface, scientific visualization tools, and the underlying data management framework - [engl.]
Virtual Computational Chemistry Laboratory
This site provides free on-line tools, which we hope you will find helpful in performing computational chemistry, ADME/T and chemoinformatics tasks - [engl.]
WebMO
... is a World Wide Web-based interface to computational chemistry packages. WebMO is available for free and is installed on a unix or Linux system - [engl.]
---
---
Journale, Fachzeitschriften
---
Computational Biology and Chemistry
... publishes original research papers and review articles in all areas of computational life sciences. Elsevier - [engl.]
Computing and Visualization in Science
... provides the ideal platform for scientists eager to cooperate in solving scientific and technological challenges. Springer - [engl.]
Computing in Science and Engineering (CiSE) magazine
... is a joint publication of the IEEE Computer Society and the American Institute of Physics - [engl.]
Journal of Chemical Information and Computer Sciences, JCICS
Astute chemists, computer scientists, and information specialists look to this insightful research studies, programming innovations, and software and book reviews to keep current with advances in this integral, multidisciplinary field. ACS. ACS - [engl.]
Journal of Chemical Theory and Computation
... publishes papers reporting new theories, methodology, and/or important applications in quantum chemistry, molecular dynamics, and statistical mechanics. ACS. ACS - [engl.]
Journal of Computational Chemistry
... publishes articles concerned with all aspects of computational chemistry: analytical, biological,inorganic, organic and physical. Wiley - [engl.]
Journal of Computer Aided Chemistry
JCAC - [engl.]
Journal of Computer-Aided Materials Design
... provides a communications forum at the intersection of computational materials research with materials technology. Springer - [engl.]
Journal of Computer-Aided Molecular Design
... provides a form for disseminating information on both the theory and the application of computer-based methods in the analysis and design of molecules. Springer - [engl.]
Match
Communications in Mathematical and in Computer Chemistry - [engl.]
---
---
Dissertationen
---
Protein-Ligand-Komplexe
Neue Methoden in der Computerchemie zur Bewertung und Optimierung von Protein-Ligand-Komplexen. Universität Marburg, 2008
---
---
Institute und Foschungseinrichtungen
---
Braunschweig
AG Computerchemie an der TU Braunschweig - [engl.]
CSCS
Schweizer Zentrum für naturwissenschaftliche Programmierung - [engl.]
Düsseldorf
Institut für Theoretische Chemie und Computerchemie an der Heinrich-Heine-Universität Düsseldorf
Erlangen
Computer Chemistry Center, CCC. University of Erlangen-Nuremberg - [engl.]
Halle
Arbeitsgruppe Computerchemie am Leibniz-Institut für Pflanzenbiochemie
Oldenburg
Computerchemie an der Universität Oldenburg
---
---
---
Literaturempfehlungen und Bücher: Computerchemie
---
Errol G. Lewars
This corrected second edition contains new material which includes solvent effects, the treatment of singlet diradicals, and the fundamentals of computaional chemistry. "Computational Chemistry: Introduction to the Theory and Applications of Molecular and Quantum Mechanics" is an invaluable tool for teaching and researchers alike. The book provides an overview of the field, explains the basic underlying theory at a meaningful level that is not beyond beginners, and it gives numerous comparisons of different methods with one another and with experiment.
Springer; 2011
---
---
---
---
---
Seiteninfo:
Die Autorenrechte bzw. das Copyright der oben aufgeführten Internetseiten besitzen die entsprechenden Autoren bzw. Seitenbetreiber. Für die Inhalte der genannten Seiten sind daher die Seiteninhaber und Autoren verantwortlich.
Wenn Sie Ihre Internetseite kostenlos unter Internetchemie.Info auflisten möchten, dann verwenden Sie das Registrierungsformular für den Eintrag von Chemie-Seiten.
Einträge: 35
Aktualisierung am 16.11.2016
Stichwörter: Computerchemie, Chemie, Grundlagen, Programme, Anwendungen, Entwicklung
---
Permalink: http://www.internetchemie.info/chemie/computerchemie.htm
---
© 1996 - 2016 Internetchemie ChemLin