---
---
---
---
---
---
---
---
---
Better Treatment for Lead Poisoning Coming Soon?
---

Removing lead from blood with selective lead receptors and magnetic nanoparticles.

Lead is one of the most dangerous heavy metals and is especially toxic to children. Safe and effective detoxification processes are needed. As reported in the journal Angewandte Chemie, a Korean team led by Won Seok Han and Jong Hwa Jung has developed a new, highly promising approach. It is based on a fluorescence receptor that selectively and strongly binds to lead ions. The trick: the receptor is bound to magnetic nanoparticles and can be removed, along with their lead cargo, in a simple hemodialysis procedure using magnets. By using these magnetic particles, the researchers were able to remove 96 % of the lead ions from blood samples mixed with lead in vitro.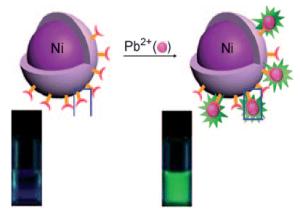 Image: Special probe used for the detection of lead: when a lead ion binds to such a "lead receptor", the receptor's fluorescence is "switched on", causing it to glow.
Image credit: Wiley
Lead and lead salts are mainly ingested in foods or drinking water. Lead pipes and lead-containing glazes on ceramic vessels are often a source of lead. Usually, it is not acute lead poisoning that occurs, but rather gradual lead poisoning, in which smaller amounts of the metal are accumulated over a long period of time. Symptoms such as muscle weakness, disorientation, memory loss, and anemia are the result. Currently, lead poisoning is treated with chelation therapy, which has serious side effects: the chelates bind to other minerals and trace elements as well as lead, removing these vital materials from the body as well. Now an alternative is on the horizon.
The researchers' idea starts with special probes used for the detection of various specific metal ions, including lead. When a lead ion binds to such a "lead receptor", the receptor's fluorescence is "switched on", causing it to glow. The receptor binds to no other metal ions, only lead. Perhaps a selective lead detector could be used for detoxification, as well as detection. The scientists synthesized a derivative of such a lead detector and also equipped the molecule with a special chemical "anchor". They used this anchor to attach the receptor molecules to the surface of magnetic nanoparticles made of silicon-dioxide-coated nickel.
Detoxification could theoretically work like hemodialysis: the blood is diverted out of the body and into a special chamber containing the biocompatible magnetic particles. By using magnetic fields, the charged magnetic particles could be fished out. The purified blood is then reintroduced to the patient. In contrast to chelation therapy, no vital minerals or trace elements would be removed from the body in this process.
---
---

Further Information and Source:

-

Hye Young Lee, Doo Ri Bae, Ji Chan Park, Hyunjoon Song, Prof., Won Seok Han, Dr., Jong Hwa Jung, Prof.:
A Selective Fluoroionophore Based on BODIPY-functionalized Magnetic Silica Nanoparticles: Removal of Pb2+ from Human Blood.
In: Angewandte Chemie International Edition; 2009, 48; published online: 7 Jan 2009
DOI: 10.1002/anie.200804714
URL: direct link

-

Source: Angewandte Chemie International Edition, press release no 02/2009

Related Information:
---
---
---
---