---
Der Begriff Polymer wird nicht immer einheitlich verwendet: Siehe auch Makromoleküle, Kunststoffe etc.
Verzeichnis mit Herstellern und Händlern von Polymeren und Chemikalien für die Polymerherstellung.
---
---
Inhalt, Gliederung
---
---
---
---
Internationale Hersteller und Anbieter
---
Akzo Nobel Polymer Chemicals
... is a leading supplier of organic peroxides, metal alkyls, organometallic specialties, polymer additives, and antifouling and suspending agents for the polymer production and processing industries - [e]
Evonik Industries
High performance polymers, Vestamid - [d, e]
---
---
Deutschland
---
ABP Coatings
Produkte in den Bereichen Bodenbeschichtung und Abdichtung mit Polyurethan- und Epoxidharz- Flüssigkunststoffen - [d, e, f]
Evonik
Hochleistungskunststoffe - [d, e]
GEPOC Polymerchemie GmbH
Haftvermittler, Klebstoffe, Trenn- und Gleitmittel und Prozesshilfsstoffe - [d]
Polymer-Chemie GmbH
… compoundiert, veredelt und modifiziert Polymere, führt kundenspezifische Entwicklungen durch und reagiert mit neuen Produkten auf die aktuellen Anforderungen des Marktes - [d]
---
---
USA
---
Polymer Chemistry Innovations Inc.
... manufactures polymer products which include aquazol polyethyloxazoline, macromonomers and custom synthesis capabilities - [e]
Qemi International, Inc.
... offers a complete range of water soluble polymer PAM (polyacrylamide) based flocculants and coagulants including polyamines and polydadmacs designed to cover all types of water solids separation processes and specialty applications such as clarification, thickening, flotation, filtration, settling, etc. - [e]
Western Reserve Chemical Corporation
... is a distributor and manufacturer of specialty chemicals and industrial intermediates to the rubber, polymer, textile and lubricant industry - [e]
---
---
Grossbritannien
---
Hardie Polymers Ltd.
Hardie Polymers are one of the leading Independent Thermoplastics Distributors in the UK, offering a complete range of Engineering & Commodity Polymers to the Injection Moulding and Extrusion sectors - [e]
Robinson Brothers Ltd.
Independent manufacturers of speciality organic chemicals, providing a comprehensive package of products and technical services across two distinct global market areas - rubber chemicals and polymer chemicals - [e]
---
---
Österreich
---
HP Polymer GmbH
... is a resin producer of P84 polyimide resins based on BTDA and PMDA monomers reacted with isocynates to produce fully imidized polyimide resins without the need for post curing - [e]
---
---
Japan
---
---
---
---
Literaturempfehlungen und Bücher: Polymere
---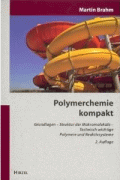 Martin Brahm
Schneller Einstieg in die Welt der großen Moleküle.
Das Wissen über die Chemie und Eigenschaften synthetischer Makromoleküle wächst stetig. Nahezu jede chemische Reaktion eignet sich zur Herstellung von Polymeren, und durch die endlose Anzahl von Reaktanden sind die Kombinationsmöglichkeiten unbegrenzt. Sich hier einen Überblick zu verschaffen, ist ein mühsames Unterfangen.
Dieses kompakte Buch schafft hier Abhilfe. Es vermittelt die Grundlagen der Polymerchemie und gestattet auf einigen Gebieten erste tiefer gehende Einblicke.
Hirzel, Stuttgart; 2009
---
---
Aktualisiert am 25.11.2017.
Permalink: https://www.internetchemie.info/chemiemarkt/polymere-hersteller.php
---
---
© 1996 - 2018 Internetchemie ChemLin